6 Reasons To Have A First Look On Your Wedding Day | Twin Cities & Western WI Wedding Photographer
When helping my clients decide on a package and create a wedding day timeline, I always ask my couples: do you plan on having a first look? More and more, the answer is YES! While I would never annoyingly push a couple to include a first look and would ALWAYS respect their wishes to see each other for the first time walking down the aisle, there are a lot of benefits to first looks.
1. Have An Intimate Moment Alone With Your Spouse (and Father/Grandfather) and Calm Your Nerves
I don't know about you, but I was a freaking ball of nerves on my wedding day. Leading up to the day, I was fine, but then BAM…wedding day came and I couldn't eat and was quite overwhelmed with everything. If I had opted for a first look, I think that I would have been calmed down by getting to see my husband and share an intimate moment with just the two of us before all the craziness started.
I find that couples are able to relax and be more present and joyful after sharing this special time and remembering what this day is all about – the two of you. When people are comfortable, they are able to shine and let emotions flow more freely. It also creates a safe space to express those emotions before standing in front of a sea of people.
This bride decided that her relationship with her father and grandfather was so special that they also deserved a first look. There were definitely tears, and this allowed her to have some special time with the other men in her life that mean the world to her – without it, moments with her father and grandfather would have been lost in the hustle and bustle of the day where she had to stretch her time amongst all family, friends, and guests.
2. Relax Your Wedding Day Timeline
Wedding day timelines are important and necessary, but sometimes things happen and time starts flying. I can't tell you how many times hair/makeup/wardrobe issues have caused us to be an hour behind. While I do always try to bake in some extra time to make up for this possibility, many couples have a strict budget and need to stick to the number of hours they originally chose. This means that there's a chance that shots that meant a lot to you may not happen or you could feel incredibly rushed, which usually ends up being visible in less-than-ideal images. Feeling rushed on your wedding day is THE LAST THING I want for you as your photographer. No added stress please!
For couples that want to save money and book a smaller package instead of a full day, first looks are a game changer! Without them, you often do not have a ton of time in between the ceremony and reception to capture family, bridal party, AND couple portraits. Starting with a first look means that those important photos will be captured right away, ensuring nothing is missed!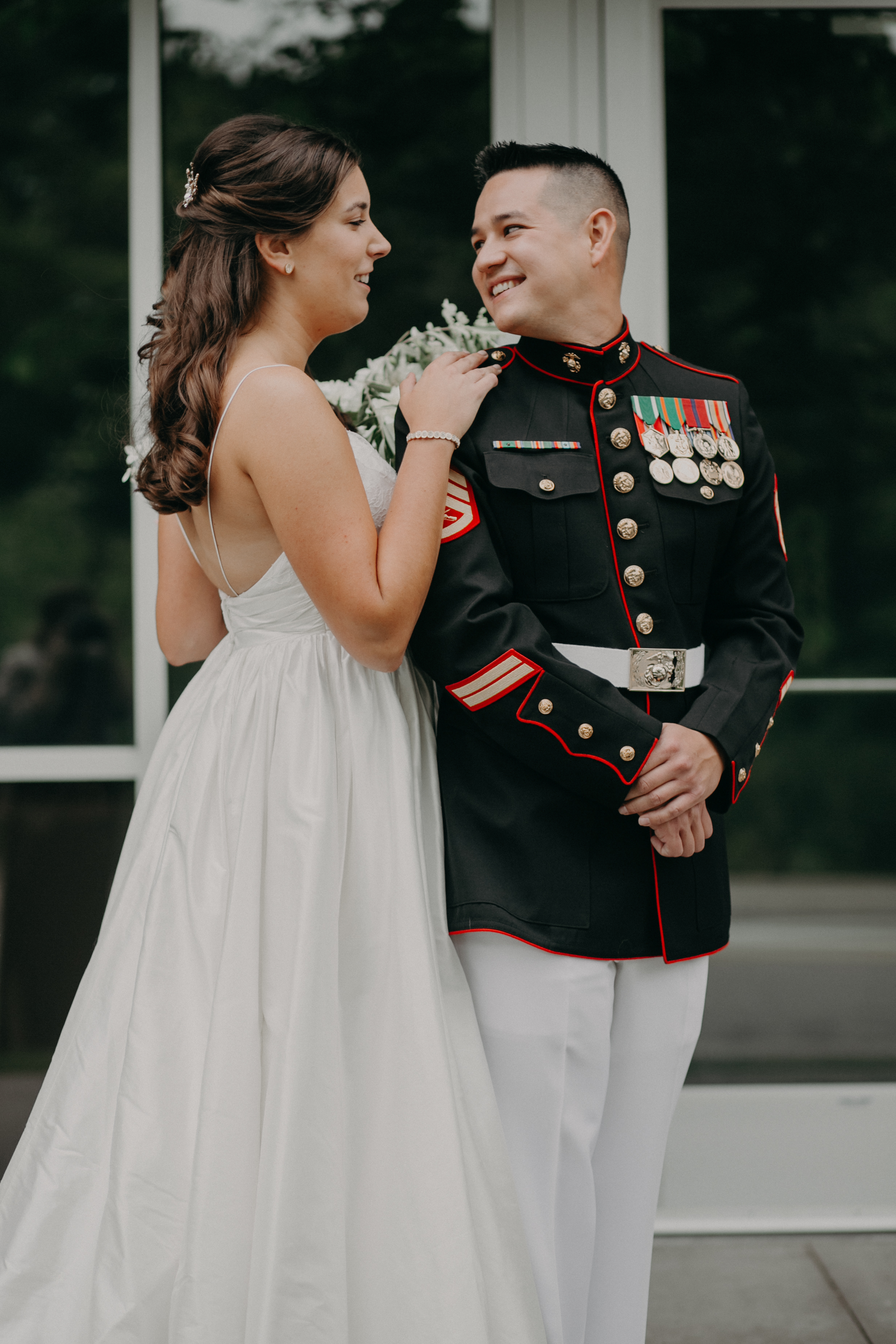 3. Look Your Best With Fresh Face & Clothing
Brides are often getting their hair and makeup done 3-4 hours BEFORE the ceremony, so having a first look means that you're looking your finest with fresh makeup and a clean dress before things get going and you get sweaty and dirty (if you're a bride who left their wedding with a spotless dress, shoot me a message because I'm not sure I believe you exist).
4. Spend More Time With Guests After the Ceremony
When you create time for a first look, you are adjusting your day so that you have more time to spend relaxing and kicking it with your peeps in between the ceremony and reception. And this is how I would prefer to spend my wedding day – laughing with the people I love instead of rushing around trying to hit all the important shots on the list. When you've already captured the important shots in the beginning of the day, then your guests don't have to feel bad about coming up to you and chatting or trying to get a moment with you while you're walking out the door to go get some alone time that you haven't had yet. Often couples express that they're worried about the amount of time that they've allotted between ceremony and reception because they don't want their guests to get bored. That is an important thing to take into consideration, and having a first look can shorten that time so the party continues to flow well.
5. Receive Better Photos From Your Photographer
When setting up a first look, I'm able to position myself to get multiple angles of that moment, without other distractions like I could possibly have when attempting to capture the emotions evoked while the bride is walking down the aisle (like Uncle Gary stepping into the aisle for that iPhone shot as your hubby sees you for the first time). First looks ensure that the special intimate moment where you saw each other for the first time has good lighting, no distractions, genuine emotion, and you'll receive MORE images than if you opted not to have one. You'll receive more portraits of the two of you in your gallery and the quality, due to having more time, will be better.
6. Traditions Were Meant To Be Broken
The tradition of seeing each other for the first time at the aisle dates back to arranged marriages, when the bride wore a veil over her face until the groom lifted it to kiss his bride. The family did not want the groom to back out if the bride was less than beautiful (totally horrible, I know). It's 2019, and this tradition has now evolved to simply be the first time that a bride and groom see each other in their wedding attire, because it marks a special moment and can evoke an emotional reaction from both. But first looks ALSO mark a special moment and evoke an emotional reaction, so there's no reason why this ancient tradition can't be kicked to the curb!
The decision to have a first look or not is a very personal one, and no matter what you decide, your wedding day will be one of the most beautiful and magical days of your life. Think about what is MOST important to you when making this decision and communicate that to your photographer when choosing a package and finalizing your timeline. Personally, I feel that first looks are one of the most special things you could decide on and so worth it.