Vacationing to Maui: 7 Activities You Should Do On the Island of Maui
Maui has an endless amount of things to do. Suffice to say, you won't be bored when you vacation there! Between beach days, hiking, driving around the island, visiting volcanos, shopping……I mean, good luck fitting everything in! We had about 6 days when you factor in travel time (let's be real, the one crappy thing about vacationing to Maui as a midwesterner is the long flight time) and we split our week staying at two different hotels/resorts on the island, so we also split up our activities based on proximity to that. If you want to see where we stayed and ate on Maui, see Vacationing to Maui: Where To Stay and Eat.
Here are 7 activities we did on the island that I recommend you at least research and decide if it's something you want to include on your tip there!
We stayed at the Grand Wailea, a Waldorf Astoria Resort, on the southeastern side of Maui. I knew that I wanted to attend the luau this time since we didn't do one the last time we came to Hawaii. At first glance it seems like it's expensive at $160 a person, but when you realize how expensive literally EVERYTHING is on the island, it truly isn't a bad deal. Not only do you get a buffet of food true to Hawaiian roots, but you also get bottomless drinks and a show that lasts about an hour and a half.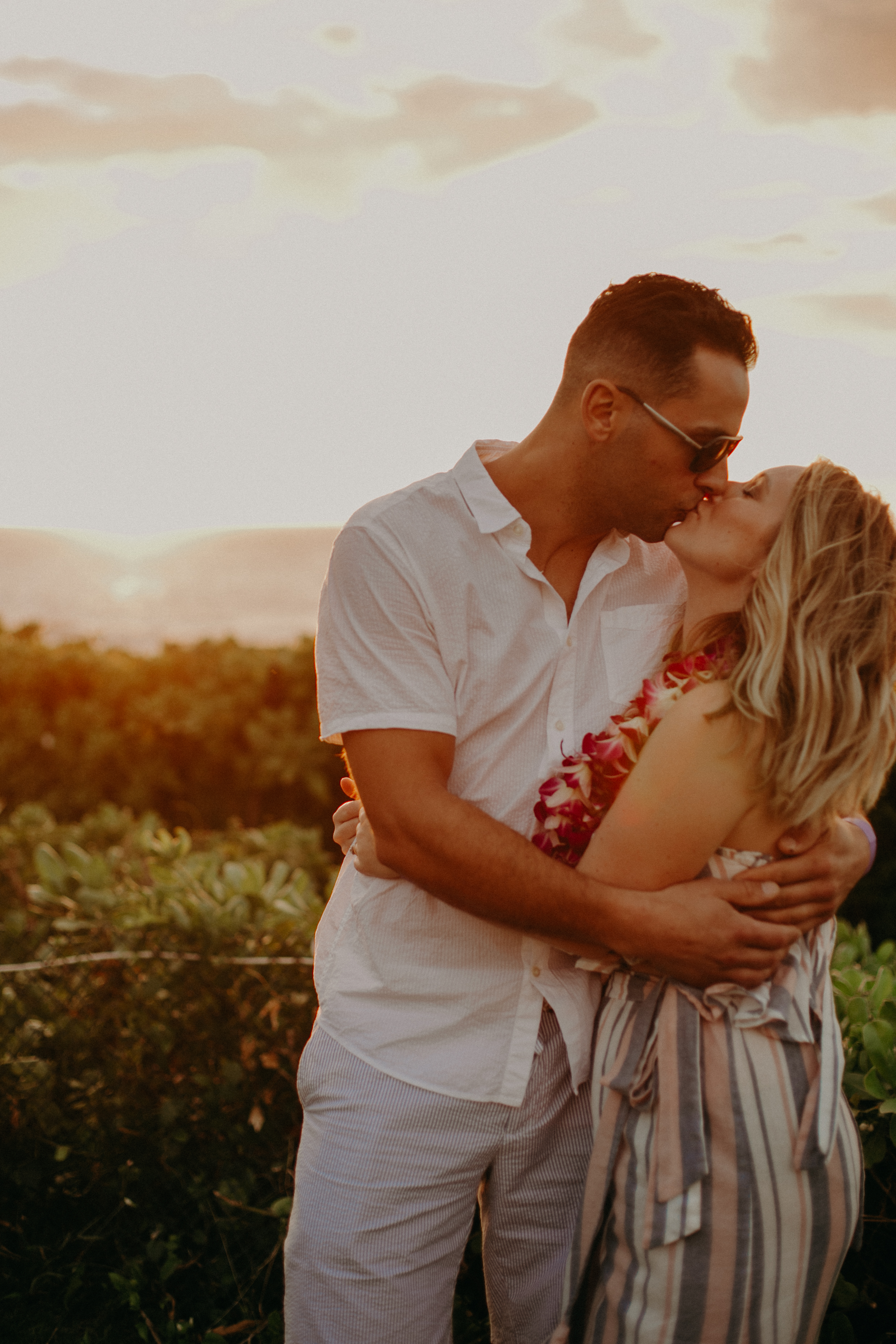 To see more photos from The Grand Lu'au at Honua'ula, go read Vacationing to Maui: Where To Stay and Eat.
Get a couple's massage by Maui's Best
Another thing I really wanted to do was get a couple's massage. Well, to be fair, I want a massage on every vacation I ever go on. After looking at the prices at the spa at the Grand Wailea, I knew I had to go outside of the resort for an affordable one. That's where Maui's Best came to the rescue! You can go into their location OR they travel to the different resorts and bring their tables to YOU! We had them come to our hotel room and set up shop for a 90 minute massage. This meant that Mike and I weren't getting massages right next to each other because of how the space in our room was laid out, but that wasn't the end of the world. Our masseuses were Andrea and Gail and HOLY MOLY they did an amazing job! I highly recommend either of them!! They had really great pressure (I like my pressure fairly hard), played music, were very personable and punctual, and most of all were very professional.
This shopping center was a short 5 minute walk from our resort and we went there to not only grab snacks and alcoholic drinks to keep in our hotel room for the next few days, but we also shopped for flip flops, swimsuits, hats, and other touristy things. If you're staying near here, and you like shopping, you'll shop your little heart out here with over 70 different shops!
Haleakala, or the east Maui Volcano, is a massive shield volcano that forms more than 75% of the Hawaiian Island of Maui. It's peak is at 10,023 feet. Admittedly, we didn't spend as much time as I would have liked here but we did make it JUST IN TIME for sunset on one of our last days. It was really brutal driving up the volcano, which took over an hour, when the sun was setting and right in our eyes as we went around insane curves. It was scary. And I would have loved to get up early and make it for sunrise, but you have to make reservations for that and they sell out QUICK! If you know you want to go, make a reservation for the sunrise now!! And then spend the rest of your day after that hiking the Haleakala National Park (bring snacks!!) That is definitely one of my to do's when we go back to Maui some day.
It's VERY cold up at the summit so dress warm. I read about that, and thought I planned for it, but I was NOT prepared. I'm talking multiple layers and warm hat. My skin was nearly frozen after standing on the summit for 10 minutes and I'M FROM WISCONSIN!
Hang out in Lower Paia
When we changed hotels mid-trip, we ended up staying about 15 minutes from Paia, a now laid back town built in the late 1800's around the sugar mills on the northern side of Maui. Lower Paia is colorful, eclectic, full of hippies, and has some cool beaches, great surfing, and a good mixture of bars, restaurants and shops. The shaved ice at Ululani's is amazing!
We wanted to find Secret Beach to hang out and watch some sea turtles. We parked in an open lot at Baldwin Beach Park and walked past some basketball courts to the beach. We went right and found a ton of surfers. The sand was super deep and it was quite a work out walking even a 1/4 mile. We turned around and walked back and past the basketball courts and realized that Secret Beach was that way. We walked past this fallen tree and shortly after that, claimed a spot. We saw 2 hippies skinny dipping a bit farther down; this beach is known to be a nude beach but clothing is expected on the Paia side, where the graffitied WWII pill box is, and where we were.
Explore the West Side of Maui
The first day we rented our Jeep, we drove north up the West Coast of Maui from the Grand Wailea. It was raining and fairly windy, which is very normal for the winter months, so our plan of stopping at a beach and snorkeling didn't exactly pan out. But the upside to vacationing on Maui in the winter is the whale sightings, which we definitely did see just driving along the coast!
We stopped in Lahaina and got some snacks then continued north. It was really fun to just drive through all the little town and past all the small beaches. You can stop at any one of them and hang out but we really wanted to get to Black Rock Beach for some snorkeling. Unfortunately, we made the decision to keep driving past it due to weather. Before we knew it, the landscape changed, almost right before our eyes, and we saw types of trees we hadn't seen on the island yet and weren't expecting. At this point we realized we were at Kapalua Golf – The Plantation Course, and were almost to Honolua Bay, which is the first place I suggest you go for a photo op!
Honolua Bay
Honolua Bay was historically used by Honolua Ranch to receive supplies and ship products. Apparently it has great snorkeling and surfing, though we didn't get to partake in either. The beach is VERY rocky. It is not the kind of beach you go to in order to lay out in the sun on soft sand. If you want that, try Slaughterhouse Beach which is right at mile marker 32 (not noted on the highway BUT you will see concrete stairs going down to the beach – if you hit mile marker 33 you went too far).
For parking, there are a few turnouts around the bay. We parked at the most obvious one with a port-o-potty which I believe is between mile marker 32 and 33. As with any place on the island, do not leave valuables in your vehicle. Take everything with you, as there have been a rash of smash-and-grab break ins in recent years. I always brought my backpack with me everywhere we parked. Another tip they say is to not lock your car – you'd rather have someone open it to find nothing than have them break your window to find there's nothing to steal.
When you walk down the path, you enter what looks like a jungle. Since it had been raining, everything was super muddy and there was water rushing into the bay at a very fast pace. You'll see and hear tons of chickens/roosters on your walk. Keep going and you'll eventually come to the concrete slabs leading down to the beach.
Nakalele Blowhole
At mile marker 38.5 you will find Nakalele Blowhole. A short rocky hike from the parking lot, this place was packed when we were there. It was hard not to get others in every single picture I took. Some people climbed all the way down to be super close to the blowhole, but it was raining and super windy, so we declined. Had it been great weather I would have spent more time here! You just need to be very very careful near the blowhole - people have died and been swept away in the tide, some of their bodies never recovered. BE SAFE!
Olivine Pools
After mile marker 42 the miles change and start with mile marker 16. Here you will find the Olivine Pools.
Tide pools created from lava rock, the water is so clear here. We didn't hike down to the pools either due to the rain and wind. This is another place where you need to be very careful. You can also see mushroom rock and Honolua Bay from this location.
Road to Hana
Road to Hana needs to be a must on your list. Banana bread, waterfalls, hiking, beaches, fruit, incredible green lush trees and plants, bamboo forests, and not to mention photo opportunities, are just some of the things that Road to Hana has to offer. There's so much we did in the 1.5 days we spent on the Road to Hana, that I've decided to write about that separately called Vacationing to Maui: Road to Hana. Coming Soon!